Categories
Categories
Brands
Brands
1969-1970 Chevrolet Impala 4 Row Champion Aluminum Radiator
1969-1970 Chevrolet Impala 4 Row Champion Aluminum Radiator
Product Description
© copyright 2009-2021
www.PerformanceCooling.com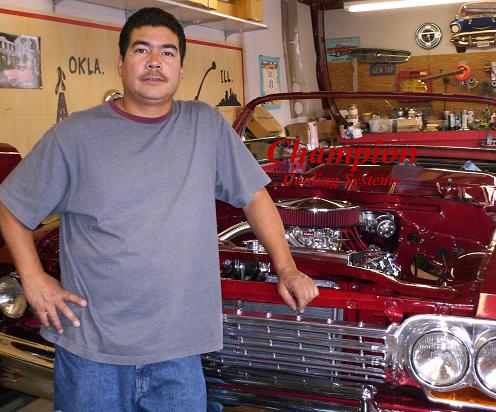 Champion Customers Bill & Ellen Szipocs, Peter Winters, & Ray Morales Testemony, and Video
1959-62 Impala
Bill & Ellen Szipocs:
This is our 1962 Chevy Impala, we just purchased your radiator last year and we are very happy with it.
We live in Florida year round. And the car runs cool even during the hot summer months. Temp runs at 175 and comfortable.
Peter Winters:
I purchased a 3-row aluminum radiator made by your manufacture, Champion Cooling for my 1959 Chevrolet Impala Sport Coupe.
The engine in the Impala is a chevy 350 with aprox. 300 hp.
I am very happy with the radiator because it was very easy to install (installation holes where just like the original ones, so NO adjustments to be made,
cools very well and looks awesome!!!!!!
I recommended them to friends of mine, and one of them already bought one.
Thanks, Peter Winters.
Ray Morales:
I have a 1962 chevy impala with a 327ci engine. I am currently restoring it to be something like a lowrod. I guess I watched to much overhauling andI liked the chip foose style (I wish chip would have done my car). It is currently about 70 percent complete. Unfortunately I have not road tested any of the components. I purchased the three row aluminum radiator and it mounted in perfectly, but I'll have to take it off because I forgot to mount the electric fans .here are some pics.

For 1969-70 Chevy Models
Caprice
Bel Air
Biscayne
Brookwood
Impala / SS
Kingswood
Will Cool Up To 950hp...Guaranteed!
You will not find a better guarantee anywhere on eBay!

Core Dimensions: 15 1/2" high x 23 1/2" wide x 2 1/4" thick (

4

row core

)

Overall Dimensions: 22" high x 28 1/4" wide (including brackets).

Upper inlet: 1 1/2" located on Drivers side.

Lower outlet: 1 3/4" located on Passenger side.

Auto trans cooler: included

OEM style brass petcock

drain.

Billet style fill neck construction NOT STAMPED

Radiator Cap included

Factory Polished Tanks
Questions - Credit Card Order
Call to pay securely with any major credit card!

Questions - Credit Card Order
Call to pay securely with any major credit card!
You could
easily
spend $600-1,500 for a 4 row radiator of similar quality.
Buy with Confidence
.
Product Reviews
Find Similar Products by Category
Customers also viewed