Categories
Categories
Brands
Brands
3 Row Radiator (Power Steering Box Notched), Dual 12" 1500cfm Fans, Shroud for 1959 - 1963 Chevy Cars
3 Row Radiator (Power Steering Box Notched), Dual 12" 1500cfm Fans, Shroud for 1959 - 1963 Chevy Cars
3 Row Radiator (Power Steering Box Notched), Dual 12" 1500cfm Fans, Shroud for 1959 - 1963 Chevy Cars
Product Description



Genuine Champion Cooling Systems Part #CC281B-PS
This radiator is designed for a vehicle with a clearance issues that are caused by power steering obstructing the installation. It features a notch on the bottom of the tank to give extra clearance. This radiator is designed for either a 3.9L(236ci) L6, 4.6L(283ci) V8, or a 5.3L(327ci) V8 engine. This radiator will NOT mount a factory shroud.
1959 1960 1961 1962 1963 Chevy Impala
1963 1964 1965 Chevy Bel Air
1959 1960 1961 1962 Chevy Kingswood
1960 1961 1962 1963 1964 1965 Chevy Biscayne
1959 1960 1961 1962 Chevy Caprice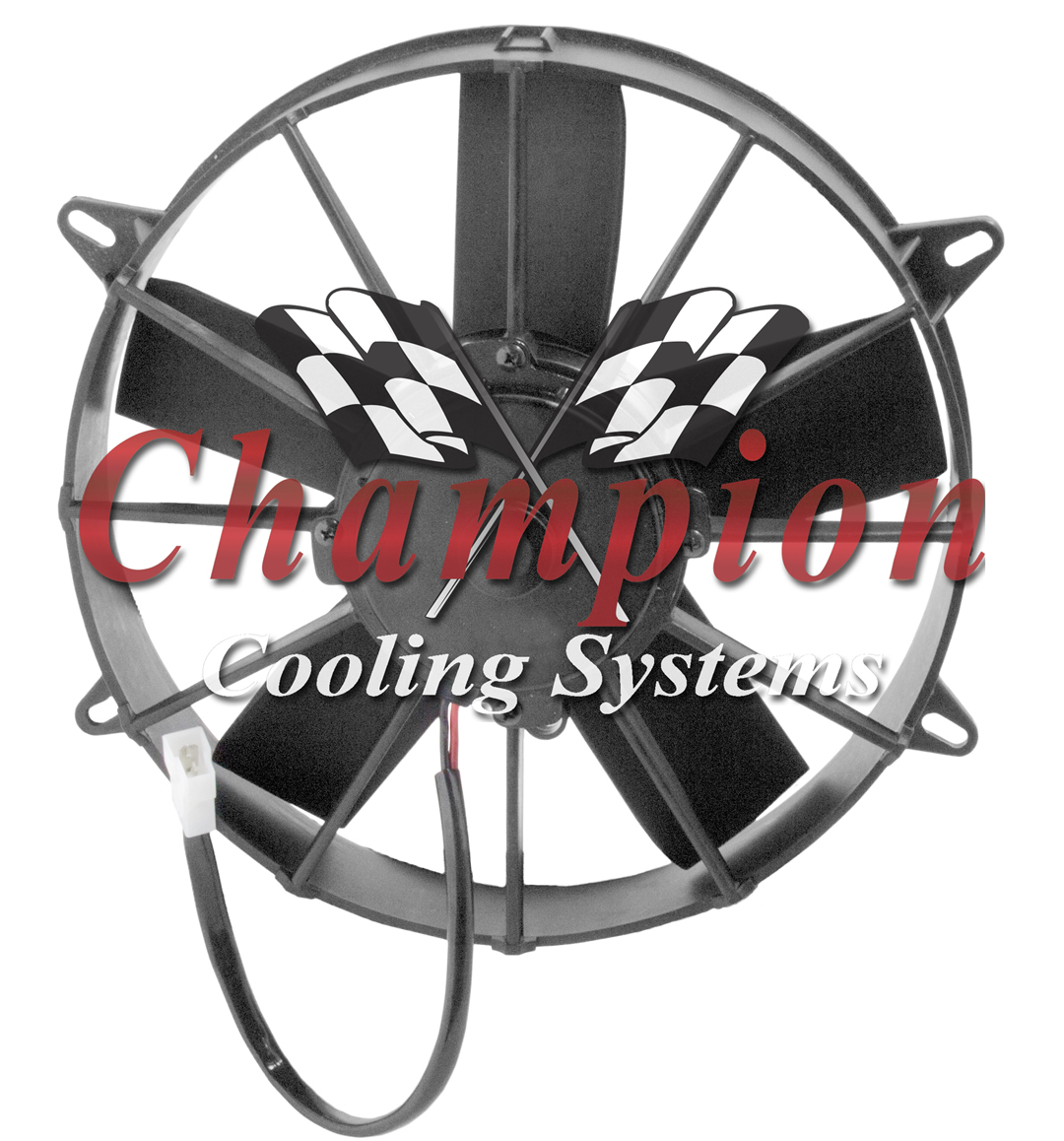 This fan above with Radiator and Shroud Below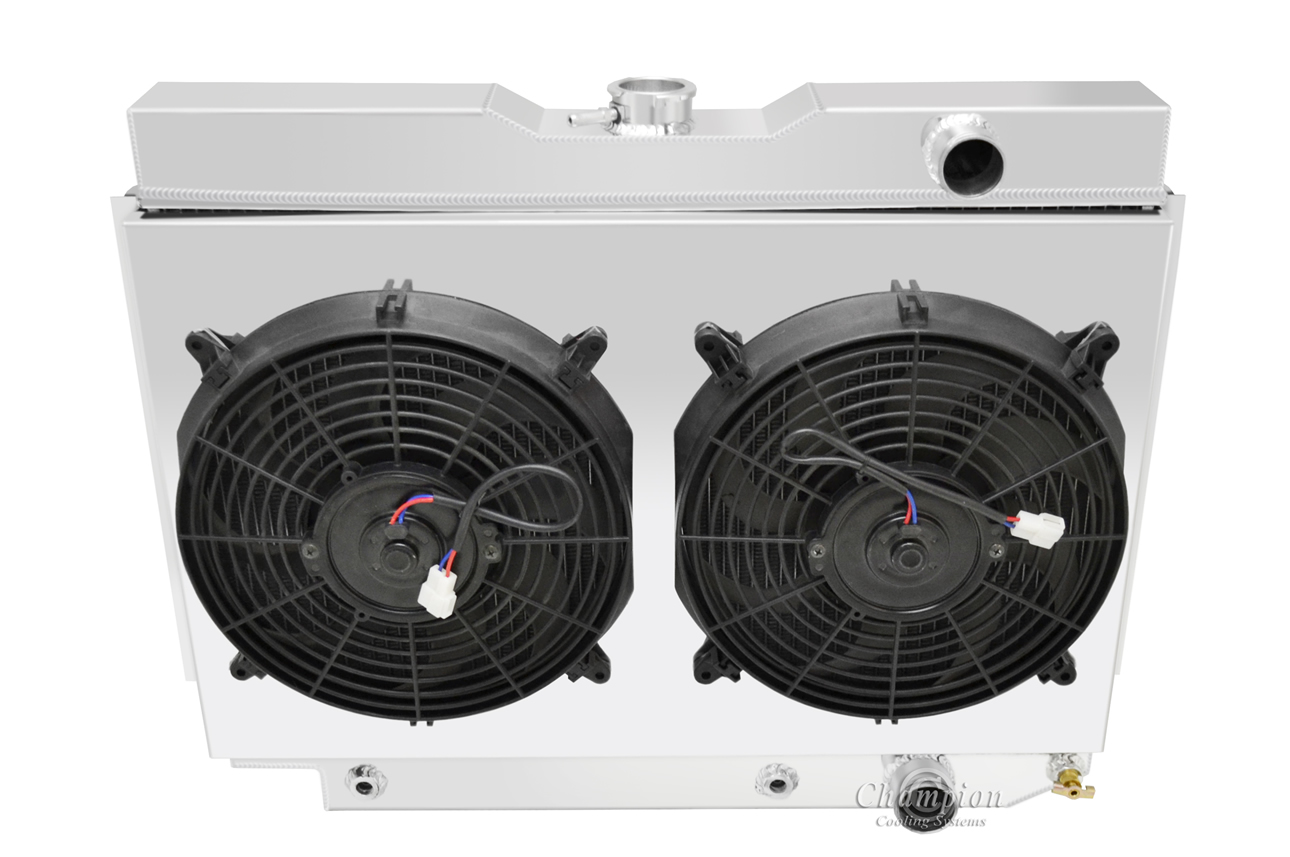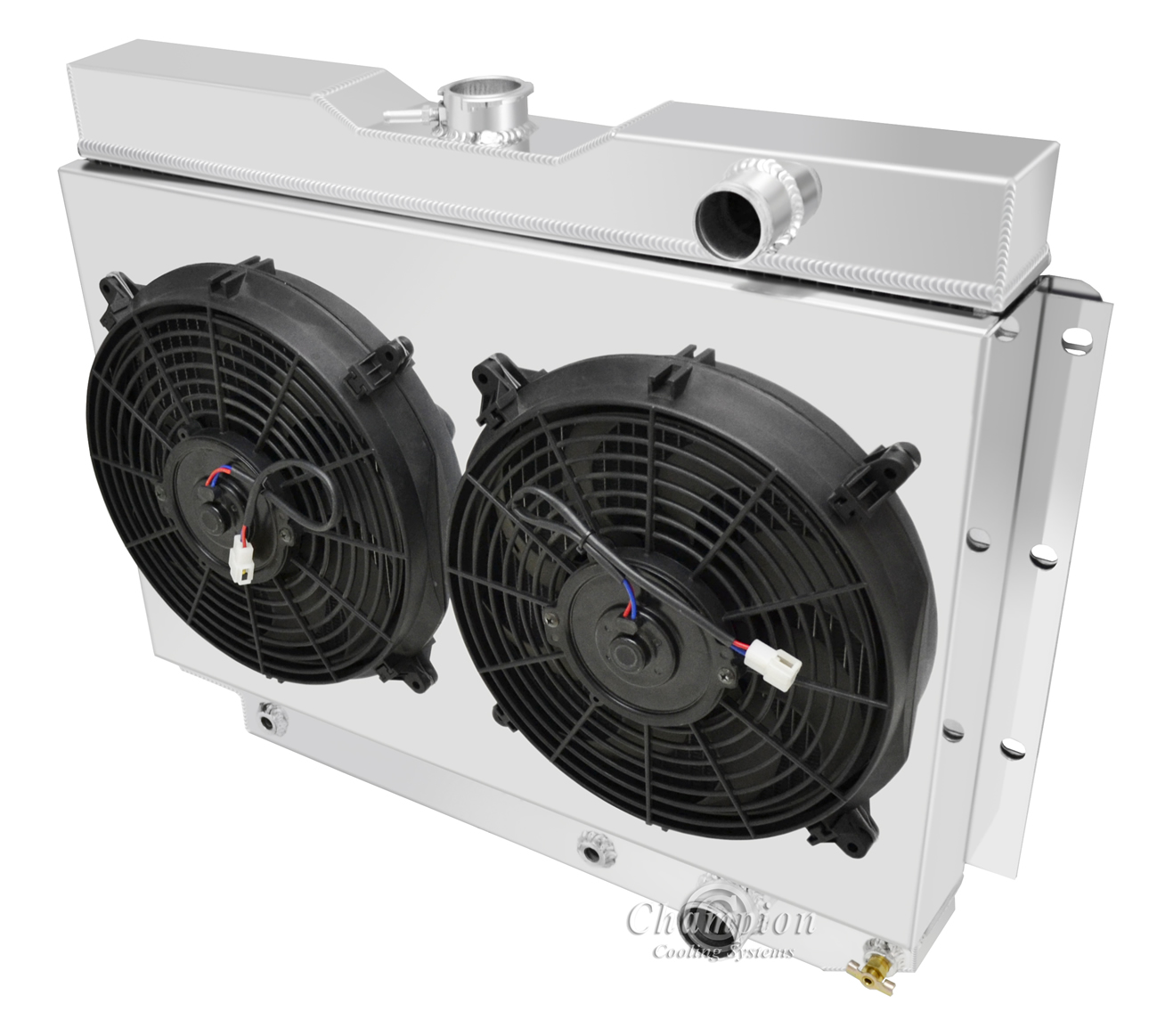 Higher density core: cooling rows are spaced 3/8" apart: giving you 25% more rows within the core than other aluminum radiators sold on eBay and 35% more rows than OEM copper.
Aluminum dissipates heat more efficiently than copper or brass.

14-16 cooling fins per inch (42 per square inch) giving you approximately 1500 more cooling fins than other aluminum radiators and approximately 3000 more than OEM copper radiators.

Lighter weight.

Outperforms other 2, 3 and 4 row copper radiators.

High performance appearance.

You get "BIG BLOCK COOLING" and "PEACE OF MIND" when you drive your car with a Champion Cooling Systems radiator.

You could easily spend $400 - $1,000 more for a radiator of similar quality.
Needs modifications to your radiator? We can do them!
Brackets, inlet/outlet size changes, whatever you need.
Polishing also available!
Please allow additional shipping time for any of these services.
Down Flow Or Cross Flow Type: Down Flow

Mounting Type: Flanges

Tank Material: Aluminum

Core Material: Aluminum

Overall Height: 21 3/4"

Overall Width: 28"

Core Height: 16 1/2"

Core Width: 24 1/2"

Inlet Location: Passenger

Inlet Diameter: 1 1/2"

Outlet Location: Passenger

Outlet Diameter: 1 3/4"

Core Row Quantity: 3 Row

Transmission Oil Cooler Fitting Type: 1/2-20 Straight Thread, Inverted Flare

Internal Transmission Oil Cooler: Yes
This package includes a 3 Row all aluminum radiator, a fan shroud, and two 12" electric fans.

Our radiators are hand packed in the factory box and shipped via FedEx with insurance.
Call for extra shipping rates to Hawaii, Puerto Rico, & Alaska
International shipments are via FedEx International.
Pay securely with any major credit card!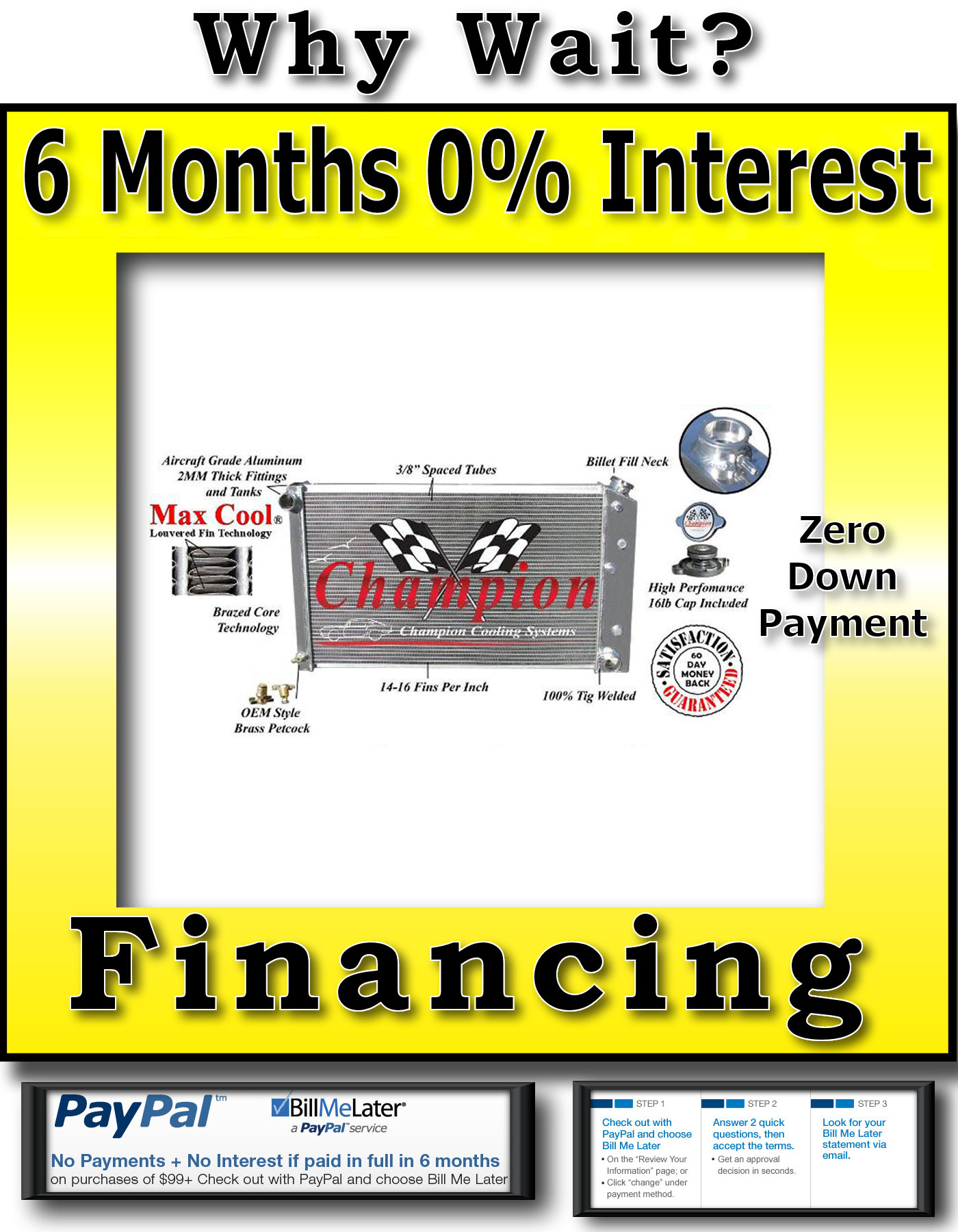 We will refund (or exchange after 60 days) 100% of your money (Including All Shipping Costs) If:
Your radiator does not fit

Your radiator does not cool your engine

Your radiator leaks

Contains manufacture's defects

Or for some reason you just do not like it

Find Similar Products by Tag
Product Reviews
Find Similar Products by Category
Customers also viewed