Categories
Categories
Brands
Brands
2 Row Aluminum Champion Radiator for 1965 - 1971 Jeep CJ5 with Buick V6 Engine
2 Row Aluminum Champion Radiator for 1965 - 1971 Jeep CJ5 with Buick V6 Engine
2 Row Aluminum Champion Radiator for 1965 - 1971 Jeep CJ5 with Buick V6 Engine
Product Description





Genuine Champion Cooling Systems Part #EC6571
For
| | | | | | |
| --- | --- | --- | --- | --- | --- |
| Designed For Engine Conversion (Buick V6) | 1971 | Jeep | CJ5 | Base | 2.2L 134Cu. In. l4 GAS Naturally Aspirated |
| Designed For Engine Conversion (Buick V6) | 1971 | Jeep | CJ5 | Base | 2.2L 2197CC 134Cu. In. l4 GAS F-HEAD Naturally Aspirated |
| Designed For Engine Conversion (Buick V6) | 1971 | Jeep | CJ5 | Base | 3.7L 3687CC 225Cu. In. V6 GAS OHV Naturally Aspirated |
| Designed For Engine Conversion (Buick V6) | 1971 | Jeep | CJ5 | Base | 4.2L 4228CC 258Cu. In. l6 GAS OHV Naturally Aspirated |
| Designed For Engine Conversion (Buick V6) | 1971 | Jeep | CJ5 | Base | 5.0L 4982CC 304Cu. In. V8 GAS OHV Naturally Aspirated |
| Designed For Engine Conversion (Buick V6) | 1971 | Jeep | CJ5 | Base Sport Utility 2-Door | 2.2L 134Cu. In. l4 GAS Naturally Aspirated |
| Designed For Engine Conversion (Buick V6) | 1971 | Jeep | CJ5 | Base Sport Utility 2-Door | 2.2L 2197CC 134Cu. In. l4 GAS F-HEAD Naturally Aspirated |
| Designed For Engine Conversion (Buick V6) | 1971 | Jeep | CJ5 | Base Sport Utility 2-Door | 3.7L 3687CC 225Cu. In. V6 GAS OHV Naturally Aspirated |
| Designed For Engine Conversion (Buick V6) | 1971 | Jeep | CJ5 | Base Sport Utility 2-Door | 4.2L 258Cu. In. l6 GAS OHV Naturally Aspirated |
| Designed For Engine Conversion (Buick V6) | 1971 | Jeep | CJ5 | Base Sport Utility 2-Door | 4.2L 4228CC 258Cu. In. l6 GAS OHV Naturally Aspirated |
| Designed For Engine Conversion (Buick V6) | 1971 | Jeep | CJ5 | Base Sport Utility 2-Door | 5.0L 4982CC 304Cu. In. V8 GAS OHV Naturally Aspirated |
| Designed For Engine Conversion (Buick V6) | 1970 | Jeep | CJ5 | Base | 2.2L 134Cu. In. l4 GAS Naturally Aspirated |
| Designed For Engine Conversion (Buick V6) | 1970 | Jeep | CJ5 | Base | 2.2L 2197CC 134Cu. In. l4 GAS F-HEAD Naturally Aspirated |
| Designed For Engine Conversion (Buick V6) | 1970 | Jeep | CJ5 | Base | 3.7L 3687CC 225Cu. In. V6 GAS Naturally Aspirated |
| Designed For Engine Conversion (Buick V6) | 1970 | Jeep | CJ5 | Base | 3.7L 3687CC 225Cu. In. V6 GAS OHV Naturally Aspirated |
| Designed For Engine Conversion (Buick V6) | 1970 | Jeep | CJ5 | Base Sport Utility 2-Door | 2.2L 134Cu. In. l4 GAS Naturally Aspirated |
| Designed For Engine Conversion (Buick V6) | 1970 | Jeep | CJ5 | Base Sport Utility 2-Door | 2.2L 2197CC 134Cu. In. l4 GAS F-HEAD Naturally Aspirated |
| Designed For Engine Conversion (Buick V6) | 1970 | Jeep | CJ5 | Base Sport Utility 2-Door | 3.7L 3687CC 225Cu. In. V6 GAS Naturally Aspirated |
| Designed For Engine Conversion (Buick V6) | 1970 | Jeep | CJ5 | Base Sport Utility 2-Door | 3.7L 3687CC 225Cu. In. V6 GAS OHV Naturally Aspirated |
| Designed For Engine Conversion (Buick V6) | 1969 | Jeep | CJ5 | Base | 2.2L 134Cu. In. l4 GAS Naturally Aspirated |
| | | | | | |
| --- | --- | --- | --- | --- | --- |
| Designed For Engine Conversion (Buick V6) | 1969 | Jeep | CJ5 | Base | 2.2L 2197CC 134Cu. In. l4 GAS F-HEAD Naturally Aspirated |
| Designed For Engine Conversion (Buick V6) | 1969 | Jeep | CJ5 | Base | 3.7L 3687CC 225Cu. In. V6 GAS Naturally Aspirated |
| Designed For Engine Conversion (Buick V6) | 1969 | Jeep | CJ5 | Base | 3.7L 3687CC 225Cu. In. V6 GAS OHV Naturally Aspirated |
| Designed For Engine Conversion (Buick V6) | 1969 | Jeep | CJ5 | Base Sport Utility 2-Door | 2.2L 134Cu. In. l4 GAS Naturally Aspirated |
| Designed For Engine Conversion (Buick V6) | 1969 | Jeep | CJ5 | Base Sport Utility 2-Door | 2.2L 2197CC 134Cu. In. l4 GAS F-HEAD Naturally Aspirated |
| Designed For Engine Conversion (Buick V6) | 1969 | Jeep | CJ5 | Base Sport Utility 2-Door | 3.7L 3687CC 225Cu. In. V6 GAS Naturally Aspirated |
| Designed For Engine Conversion (Buick V6) | 1969 | Jeep | CJ5 | Base Sport Utility 2-Door | 3.7L 3687CC 225Cu. In. V6 GAS OHV Naturally Aspirated |
| Designed For Engine Conversion (Buick V6) | 1968 | Jeep | CJ5 | Base | 2.2L 134Cu. In. l4 GAS Naturally Aspirated |
| Designed For Engine Conversion (Buick V6) | 1968 | Jeep | CJ5 | Base | 2.2L 2197CC 134Cu. In. l4 GAS F-HEAD Naturally Aspirated |
| Designed For Engine Conversion (Buick V6) | 1968 | Jeep | CJ5 | Base | 3.1L 192Cu. In. l4 DIESEL Naturally Aspirated |
| Designed For Engine Conversion (Buick V6) | 1968 | Jeep | CJ5 | Base | 3.2L 3147CC 192Cu. In. l4 DIESEL OHV Naturally Aspirated |
| Designed For Engine Conversion (Buick V6) | 1968 | Jeep | CJ5 | Base | 3.7L 3687CC 225Cu. In. V6 GAS Naturally Aspirated |
| Designed For Engine Conversion (Buick V6) | 1968 | Jeep | CJ5 | Base | 3.7L 3687CC 225Cu. In. V6 GAS OHV Naturally Aspirated |
| Designed For Engine Conversion (Buick V6) | 1968 | Jeep | CJ5 | Base Sport Utility 2-Door | 2.2L 134Cu. In. l4 GAS Naturally Aspirated |
| Designed For Engine Conversion (Buick V6) | 1968 | Jeep | CJ5 | Base Sport Utility 2-Door | 2.2L 2197CC 134Cu. In. l4 GAS F-HEAD Naturally Aspirated |
| Designed For Engine Conversion (Buick V6) | 1968 | Jeep | CJ5 | Base Sport Utility 2-Door | 3.1L 192Cu. In. l4 DIESEL Naturally Aspirated |
| Designed For Engine Conversion (Buick V6) | 1968 | Jeep | CJ5 | Base Sport Utility 2-Door | 3.2L 3147CC 192Cu. In. l4 DIESEL OHV Naturally Aspirated |
| Designed For Engine Conversion (Buick V6) | 1968 | Jeep | CJ5 | Base Sport Utility 2-Door | 3.7L 3687CC 225Cu. In. V6 GAS Naturally Aspirated |
| Designed For Engine Conversion (Buick V6) | 1968 | Jeep | CJ5 | Base Sport Utility 2-Door | 3.7L 3687CC 225Cu. In. V6 GAS OHV Naturally Aspirated |
| Designed For Engine Conversion (Buick V6) | 1968 | Jeep | CJ5A | Base | 2.2L 134Cu. In. l4 GAS Naturally Aspirated |
| | | | | | |
| --- | --- | --- | --- | --- | --- |
| Designed For Engine Conversion (Buick V6) | 1968 | Jeep | CJ5A | Base | 3.7L 3687CC 225Cu. In. V6 GAS Naturally Aspirated |
| Designed For Engine Conversion (Buick V6) | 1967 | Jeep | CJ5 | Base | 2.2L 2197CC 134Cu. In. l4 GAS F-HEAD Naturally Aspirated |
| Designed For Engine Conversion (Buick V6) | 1967 | Jeep | CJ5 | Base | 3.7L 3687CC 225Cu. In. V6 GAS OHV Naturally Aspirated |
| Designed For Engine Conversion (Buick V6) | 1967 | Jeep | CJ5 | Base Sport Utility 2-Door | 2.2L 2197CC 134Cu. In. l4 GAS F-HEAD Naturally Aspirated |
| Designed For Engine Conversion (Buick V6) | 1967 | Jeep | CJ5 | Base Sport Utility 2-Door | 3.7L 3687CC 225Cu. In. V6 GAS OHV Naturally Aspirated |
| Designed For Engine Conversion (Buick V6) | 1967 | Jeep | CJ5A | Base | 2.2L 134Cu. In. l4 GAS Naturally Aspirated |
| Designed For Engine Conversion (Buick V6) | 1967 | Jeep | CJ5A | Base | 3.7L 3687CC 225Cu. In. V6 GAS Naturally Aspirated |
| Designed For Engine Conversion (Buick V6) | 1966 | Jeep | CJ5 | Base | 2.2L 2197CC 134Cu. In. l4 GAS F-HEAD Naturally Aspirated |
| Designed For Engine Conversion (Buick V6) | 1966 | Jeep | CJ5 | Base | 3.7L 3687CC 225Cu. In. V6 GAS OHV Naturally Aspirated |
| Designed For Engine Conversion (Buick V6) | 1966 | Jeep | CJ5 | Base Sport Utility 2-Door | 2.2L 2197CC 134Cu. In. l4 GAS F-HEAD Naturally Aspirated |
| Designed For Engine Conversion (Buick V6) | 1966 | Jeep | CJ5 | Base Sport Utility 2-Door | 3.7L 3687CC 225Cu. In. V6 GAS OHV Naturally Aspirated |
| Designed For Engine Conversion (Buick V6) | 1966 | Jeep | CJ5A | Base | 2.2L 134Cu. In. l4 GAS Naturally Aspirated |
| Designed For Engine Conversion (Buick V6) | 1966 | Jeep | CJ5A | Base | 3.7L 3687CC 225Cu. In. V6 GAS Naturally Aspirated |
| Designed For Engine Conversion (Buick V6) | 1965 | Jeep | CJ5 | Base | 2.2L 2197CC 134Cu. In. l4 GAS F-HEAD Naturally Aspirated |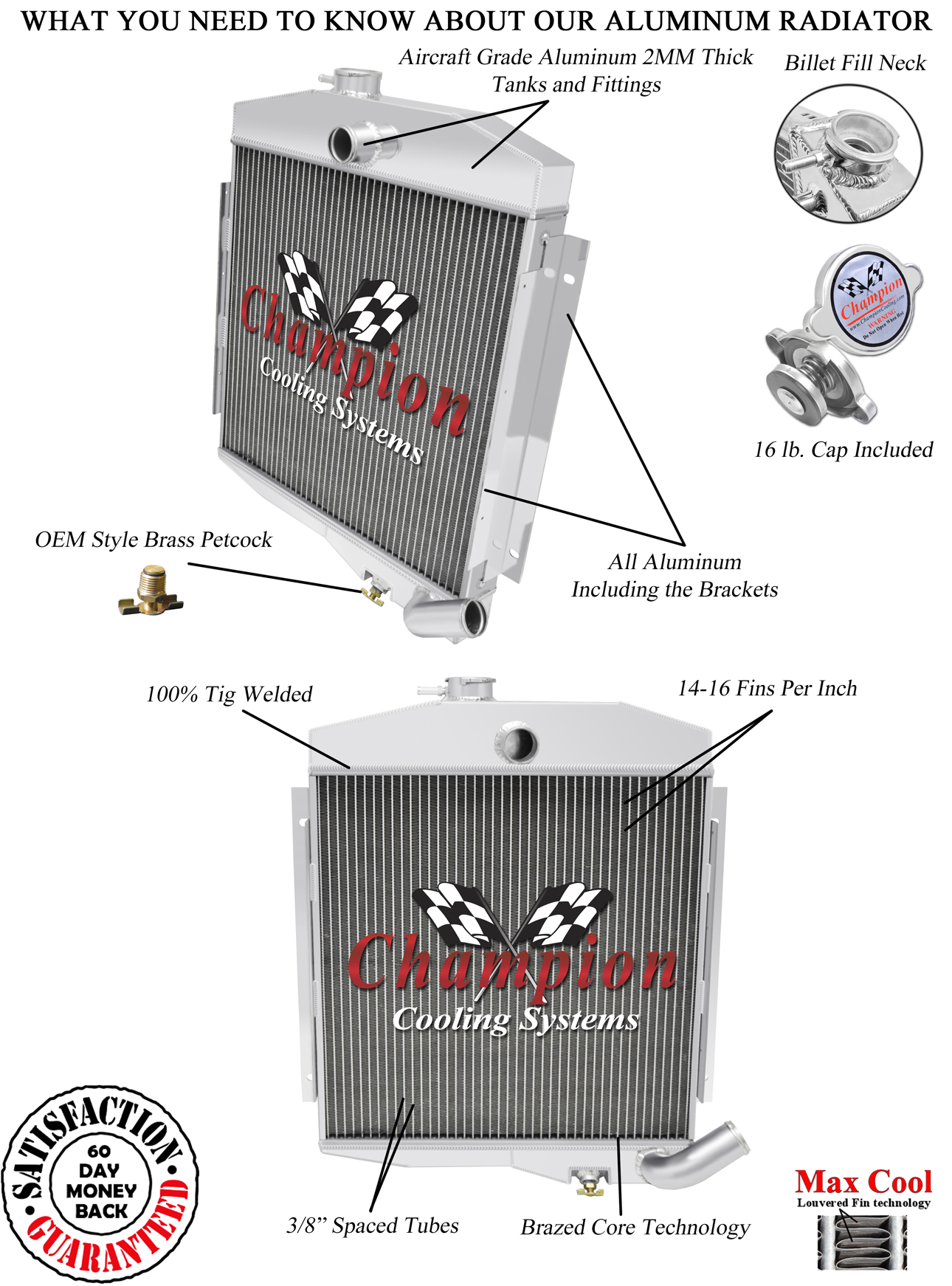 This radiator is designed for a Buick 3.7L(225ci) V6 engine.

Down Flow Or Cross Flow Type: Down Flow
Outlet Location: Passenger
Internal Transmission Oil Cooler: No
This package includes a 2 Row all aluminum radiator.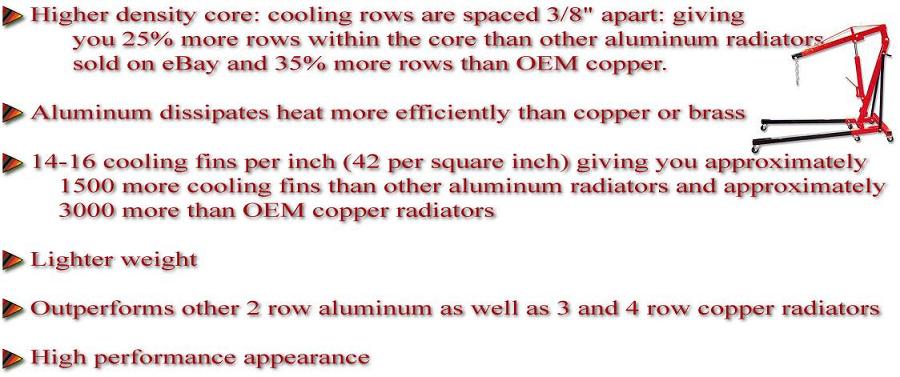 Needs modifications to your radiator? We can do them!
Brackets, inlet/outlet size changes, whatever you need.
Polishing also available!
Please allow additional shipping time for any of these services.

Our radiators are hand packed in the factory box and shipped via FedEx with insurance.
Call for extra shipping rates to Hawaii, Puerto Rico, & Alaska
International shipments are via FedEx International.
Pay securely with any major credit card!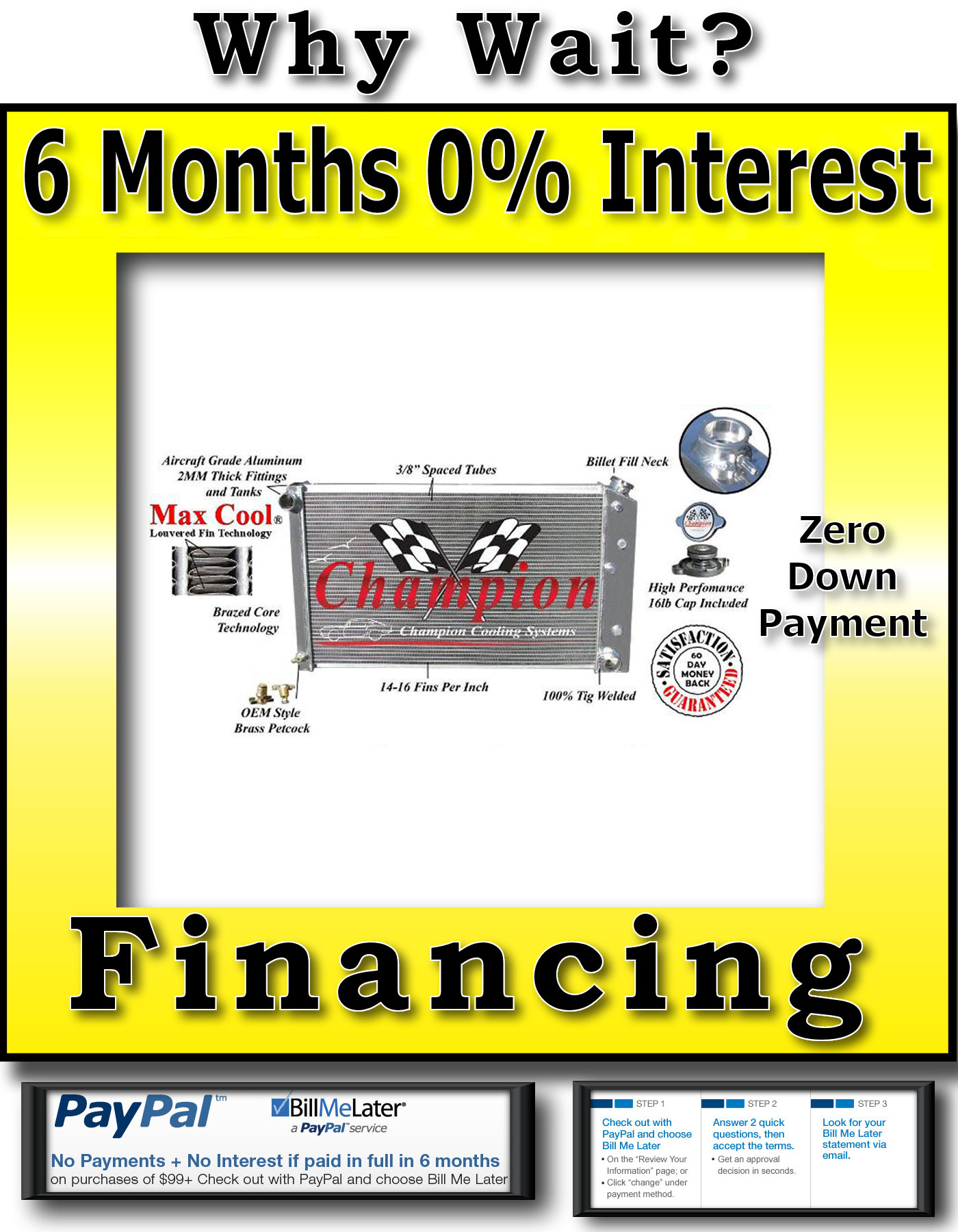 © 2009 - 2020
---
Product Reviews
Find Similar Products by Category
Customers also viewed